The "Better" Airplane

Stand
RC Aircraft Support System
The "Better" Airplane Stand takes the classic stand and adds in all the features other Stand owners have been begging for. The "Better" Airplane Stand will hold planes from Handlaunch to Medium Scale. The "V" design holds the fuse snug. The wing support allows for use and set up of flaps. The additional wide support allows for use of a single wing panel without the plane tipping and falling off the stand. The front and back supports are Velcro trimmed and allow for quick strapping down of your plane in heavy wind or to run electric motors. The unit can be tightened so as not to slip when heavier weight is applied. The wood is fine clear Danish birch and not luan. The unit ships unfinished, so you can paint it yourself, or leave it as it is (the wood is just too nice). Tripods are recommended for all around use. You can't stick a pole into the concrete floor of your shop or through the floor of your house. (at least not easily).
SOLD OUT.
YOU CAN LOOK AT THE PICTURES IF YOU WANT TO BUILD YOUR OWN, OR CONTACT
DAVE BUFFMIRE
Stand and Supports sold separately.
New "Better" Airplane Stand only $89 + $12 (CONUS shipping)
Email me HERE for shipping costs outside US
Super Heavy Duty Tripods $99
Clearance : Combo Stand and Tripod $158.00 $14 shipping
Click image for larger view.
Handlaunch BigBird Sailaire SBXC
(bottom pics by Millard Scott)
Try this with any other stand on the market:

Support the plane with only one wing panel without tipping or falling off the stand.
There's nothing better for working in the shop or in the house. It's so much easier to work on your planes on the stand than on a table.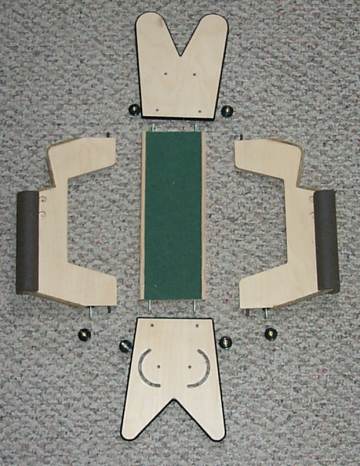 ---