Personal Arm Hydration Container
The PAHC was designed to be carried on the left or right forearm. The PAHC is held in place by a specially designed neoprene pouch, lined with thermo material to keep the liquid cool. The pouch will strap around the forearm with velcro.
The hard plastic container can be filled with a beverage of choice and has a twist off cap for easy fill and cleaning. The container is ergonomically shaped to fit a human forearm, without restricting any movement. One end of the rubber hose attaches to a 90 degree fitting, sticking out of the container cap. The cap is one piece and screws in, almost flush, to the topside of the back of the container. The opposite end of the hose will contain a bite valve that will prevent liquid back flow. The bite valve is available to the general public along with the rubber hose.
By lifting mouthpiece toward the mouth, the liquid will move back towards the cap, where the rubber tube is attached. This will ensure maximum liquid absorption.
Click Image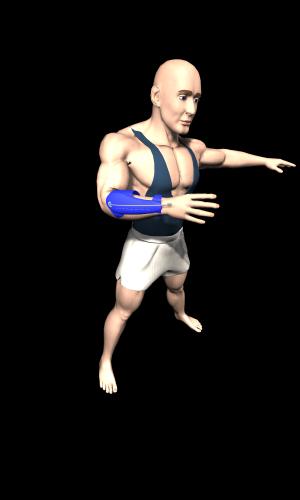 You can email inventor